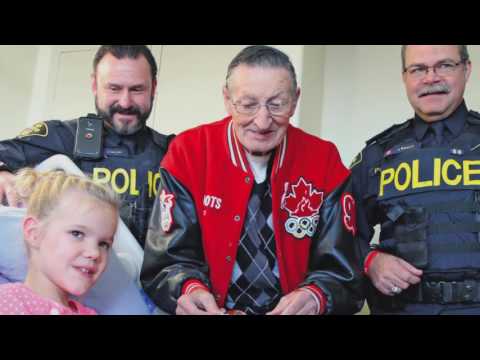 2017 Lifetime Achievement Award for Outstanding Volunteerism Awarded to Walter Gretzky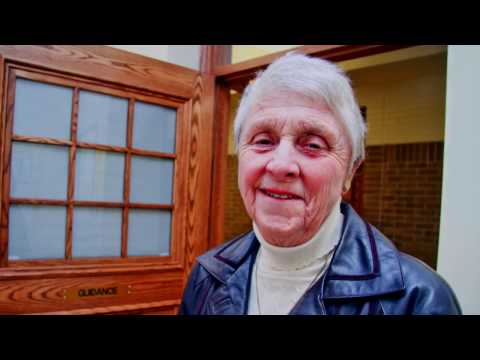 2017 Lifetime Achievement Award for Outstanding Volunteerism Awarded to Mary Welsh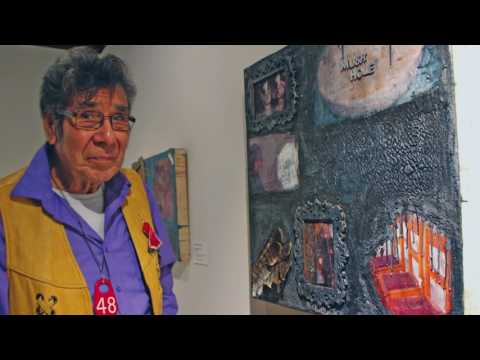 2017 Lifetime Achievement Award for Outstanding Volunteerism Awarded to Geronimo Henry
2016 Lifetime Achievement Award for Outstanding Volunteerism Awarded to Chet Bewick
2016 Lifetime Achievement Award for Outstanding Volunteerism Awarded to Marilyn McCulloch
2015 Lifetime Achievement Award for Outstanding Volunteerism Awarded to David Bailey
2015 Lifetime Achievement Award for Outstanding Volunteerism Awarded to Paul Mitchell
2014 Lifetime Achievement Award for Outstanding Volunteerism Awarded to Alan Cook
Nomination of Alan Cook for the Lifetime Achievement Award for Outstanding Volunteerism
Alan Cook has been a lifelong passionate advocate for the beautification of his home church Sydenham Street United Church through the commissioning of several new stained glass windows and the repair of others, as well as a dedicated advocate for quality music in worship through the donation of a new Allan organ and the sponsorship of Classical Sunday Worship Services, featuring professional musicians.
Over the years Alan Cook has made it his mission to raise up the arts in our consciousness as a city and as his home congregation, namely classical music and to a lesser degree, but just as importantly, the fine art of stained glass. As a base cellist for years in the Brantford Symphony Orchestra, and a board member, Alan, reminded the orchestra of its roots at Sydenham Street Church. It was at Sydenham they held their first rehearsals in their formative years, as a result of Alan's negotiations, and to which he arranged for them to return in the eighties when funding was tight. For years he drew on the generosity of members of the Brantford Symphony Orchestra, many of whom he conscripted from Toronto and Hamilton as well as Brantford, not only to play at local schools exposing them to the delights of Classical music but at Sydenham Church during public church services to which he would invite dignitaries as well as members of the public at large. He would both arrange and generously fund these events to the delight of both performers and audiences. Alan received great satisfaction from knowing that Brantford's appreciation of classical music was enhanced by his efforts.
One of his favourite organists and choir directors, world renowned Martin Saddler, from Stratford, was invited by Alan to play and perform for Silent Movie nights at Sydenham many times .On the 250 anniversary of Wolfgang Amadeus Mozart birth in 2006, Alan sponsored Martin to re-enact segments of Mozart's life and music.
Alan has a refined appreciation for the art of stained glass. In memory of his parents and his late brother Alan commissioned several beautiful, elaborate stained glass windows from Edwards Glass, London, ON, for Sydenham United. His mother, Marjorie Cook, had been the organist at Sydenham for many years, and his dad, Minto Cook, the superintendent of the Sunday school.
Alan served on the Finance Commission and the Board of Trustees of Sydenham United Church for many terms.
Alan has been called Brantford's "Mr. Symphony," a lovingly deserved title in light of his years of volunteering as an untiring coordinator and fundraiser of the Brantford Symphony. He arranged musicians, travel for them, meals and refreshments, rehearsals and performances and never expected remuneration. He was driven by his love of the orchestra and classical music, to fund raise unceasingly from local businesses, foundations and individuals. He grew seasonal subscriptions to the orchestra almost single handily, to the point that the Sanderson Center was often full to capacity for performances.
Alan Cook did all of this as a volunteer behind the scenes, neither asking nor expecting anything in return. I believe it is timely to recognize this exemplary volunteer and proud Brantfordian. He would be most surprised but deeply honoured.
Supporting Testimonials
"Mr. Cook has indeed given tirelessly to the betterment of our community over so many decades through countless fundraising projects (a great many of which he personally initiated) that have benefited students in elementary and secondary schools, the Brantford Symphony Orchestra, and Sydenham United Church, to name a few. It is most fitting that we pay tribute to him for his unwavering crusade to make our communities richer through his love of music and his willingness to share that love with others." Derek Bond
"I have known Alan for over twenty years, when he first hired me to play harp with his beloved Brantford Symphony. Knowing how important it is to introduce young people to instrumental music, he single-handedly developed a program for the schools in the area where he brought in professional musicians from the orchestra to perform for students. Flutist Vivian Minden and I were one of several groups formed. We were usually in a gym with students literally surrounding us, so they would have opportunity to see and hear us in a much less formal setting than a concert hall. Over a period of several years, we played for thousands of students and for many, this was the first time they had seen "live" musicians playing on actual musical instruments. I would like to think that we made a real difference in at least some of these students' lives and without Alan's vision, dedication, time and effort, this most certainly would not have happened. With no remuneration for himself, he arranged all the performances and attended each one, where he introduced us and always put a plug in for the Brantford Symphony. In so many regards, the Symphony never had a better ambassador or a person who worked so generously and tirelessly for its benefit." Julia Shaw
"We thank him for his genuine love of music, and for his tireless dedication and caring. Congratulations, Alan, for an honour well-deserved!" Vivian Minden
"One of the greatest things that can happen to an organization is to have Alan Cook believe in, and take up their cause. Such was the case, the year that Mr. Cook came to see our presentation. For the following two years Mr. Cook raised enough funding to take orchestral instruments to 50 schools, and to the benefit of well over 5000 school students. It was inspirational to see a man give so much of his time and effort into a cause that he believed would better the community. I remember a sponsor told us, "Alan came in and told us what he was putting together, and what (dollars) he needed from us…he wouldn't leave until he got it." There simply cannot be a more deserving individual for recognition in Volunteerism, than Alan Cook." Jean Norman Iadeluca and Ernest Porthouse of the Canadian Percussion Ensemble